Learn More About Genetics Center
Excellence in Laboratory Testing Since 1986
With the unwavering support of our patients and referring physicians, Genetics Center has matured into a premier laboratory and clinical services provider. Genetics Center offers all manner of genetic counseling, consultations by medical geneticists, and overall comprehensive medical genetics services. Our laboratories have an extensive molecular and cytogenetic test menu that includes BRCA and a full cancer panel plus many other tests by next generation sequencing (NGS), microarray, single gene and known mutation testing, FISH analysis, various cytogenetic studies, and identity/paternity testing.
Genetics Center is CLIA certified by the U.S. Department of Health & Human Services, is licensed by the State of California Department of Public Health as a clinical laboratory, and is College of American Pathologists (CAP) accredited. We are also approved by the State of California Department of Public Health as a comprehensive prenatal diagnosis center (PDC) and contracted for California Prenatal Screening Program follow-up services which are reimbursed by the State.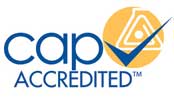 Genetics Center has two training programs that are approved by the California Department of Public Health Laboratory Field Services to train Clinical Genetic Molecular Biologist Scientists and Clinical Cytogeneticist Scientists for State licensure and is also accredited to provide Continuing Education acceptable for renewing those State licenses. We are also a Children's Oncology Group (COG) approved laboratory. We have dynamic research and test development activities with appropriate IRB as needed. Compliance with all of these requirements and truly caring for our patients ensures superb quality.
Genetics Center is focused on providing services relating to human genetics. Our team is comprised of several physicians with board certifications in clinical genetics, molecular genetics, and cytogenetics, many licensed laboratory scientists (some with Ph.D.), licensed genetic counselors (with M.S.), marketing and administrative group, information technology (IT) team, clinical coordinators, phlebotomists, and various scheduling and billing support staff.
Dr. Touran Zadeh is one of the founders and is the director of Genetics Center. She is also the director of genetics services and the director of the Cleft and Craniofacial Program at CHOC Children's. She is also the medical director of Genetics Center as a comprehensive Prenatal Diagnostic Center, laboratory director of its cytogenetics and molecular genetics laboratories...read more
Dr. Neda Zadeh is the Associate Director of the Molecular Diagnostic Laboratory at Genetics Center and is a clinical geneticist in the division of Medical Genetics at CHOC Children's. Dr. Zadeh is board certified in clinical genetics, clinical molecular genetics and in pediatrics. She is a fellow of the American College of Medical Genetics and Genomics (ABMGG) and of the American Academy of Pediatrics...read more