Our Cytogenetics Laboratory
Genetics Center offers routine chromosome analysis, as well as more specialized FISH analysis, for amniocytes, chorionic villi, products of conception, bone marrow, blood, fetal blood, and solid tissues. Genetics Center accepts both routine and more challenging specimens. We also process less than ideal specimens (small amount or poor quality), mostly with successful results. We take great pride in our quality and rapid turnaround times for results, which are within the standards established by the College of American Pathologists (CAP).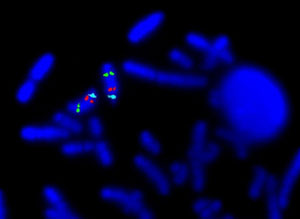 Fluorescence In Situ Hybridization (FISH) is a powerful molecular/cytogenetic technique that utilizes a fluorescent-labeled DNA probe to ascertain the presence or absence of a particular segment of DNA. It can be used to confirm or rule out small chromosome deletions, and to characterize subtle, complex chromosome rearrangements in interphase or metaphase cells.
Currently Genetics Center offers FISH analysis for the following microdeletion syndromes: Angelman syndrome, Prader-Willi syndrome, DiGeorge sequence, Velocardiofacial syndrome, Williams syndrome, Miller-Dieker syndrome and Smith-Magenis syndrome. We also perform whole chromosome painting for small translocations that cannot be visualized by conventional G-banding techniques.
The Genetics Center FISH laboratory is also equipped to test for many types of leukemia. We offer BCR/ABL testing for the Philadelphia chromosome (t(9;22)), which is found in about 99% of patients with CML. We offer testing for inv(16) which is found in 23% of AML-M4Eo patients. We also can detect the 15;17 translocation, which is found in about 97% of patients with APL.
If there is a test you require which is not listed, please contact us and speak to our laboratory personnel about available options.